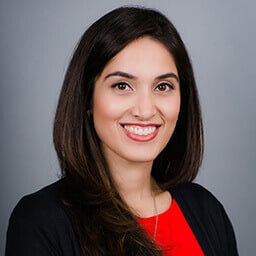 Dr. Naqvi graduated from Wofford College, Summa Cum Laude with a Bachelor of Science degree. She received her Medical Degree from The University of Cincinnati College of Medicine and her Ophthalmology Residency was done at U.C. Medical Center as well. Dr. Naqvi completed her Ophthalmology Pediatric Fellowship at the Cincinnati Children's Hospital Medical Center. She specializes in Comprehensive Ophthalmology, Cataract Surgery, Pediatric Ophthalmology and Adult Strabismus.
Dr. Naqvi is a native of Shelby, NC. She is married with two children and enjoys cooking, reading and travel. She pursued Ophthalmology because she fell in love with the anatomy of the eye and how everything works together to help you see. When asked why she enjoys seeing children and adults, she stated, "I enjoy working with all types of people, each is so different and can make a day very engaging." Her reason for joining MidWest Eye Center: "I wanted to be a part of a practice in Cincinnati, where patient care is the primary focus.
Dr. Naqvi feels passionately about taking the time to listen to patients & their concerns regards to their sight. Many times patients come in with real fears & concerns about going blind, and it is our job to help ease their worries & help them through that. So many times people come in fearful & leave with a smile on their face. That's what it's all about… helping people see better.
In addition, seeing kids in the day brings a different light. Children are so innocent & it takes winning their trust first to be able to get close enough to get an eye exam. We have to remember what it was like to be a kid at one time too- and it's not that easy to forget how fear can feel very big as a small child. Not to mention, parents need to have understanding & reassurance about what's going on with their child's eyes. Dr. Naqvi also has privileges at Cincinnati Childrens Hospital Medical Center where she operates on children who need eye surgery.
Board Certification
American Board of Ophthalmology
Professional Affiliations
Member of:
American College of Physicians,
American Medical Association
American Academy of Ophthalmology
American Academy of Pediatric Ophthalmology and Strabismus.
Languages
Fluent in English, Urdu and Arabic.
Education
Medical Degree, University of Cincinnati College
of Medicine
Cincinnati Childrens Hospital Medical Center –
Pediatric Ophthalmology Fellowship
University of Cincinnati Medical Center –
Ophthalmology Residency
Wofford College – Bachelor of Science,
History Minor, Summa Cum Laude.
---