YAG Laser Capsulotomy
One of the most common cataract surgery complications is referred to as a posterior capsule opacity (also called posterior capsule opacification or PCO). Fortunately, a YAG laser can treat posterior capsule opacity safely, effectively and painlessly. This procedure, known as YAG laser capsulotomy, often can be performed in your doctor's office.
If you feel like you may be experiencing an issue after cataract surgery, contact MidWest Eye Center immediately at (800) 385-EYES (3937).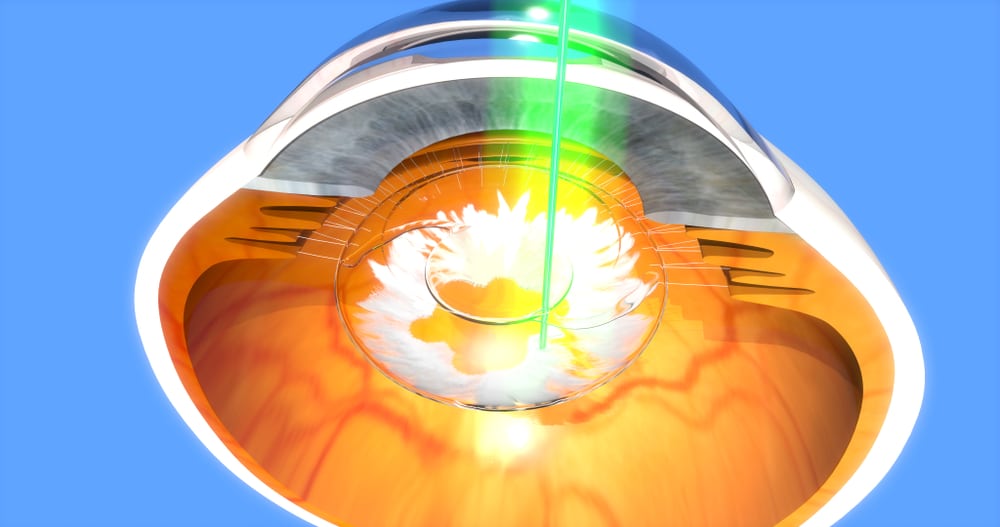 How Does This Happen?
During cataract surgery, your surgeon will remove the cloudy natural lens of your eye (cataract) and replace it with an intraocular lens (IOL). Much of the thin clear membrane that surrounds the natural lens (called the lens capsule) is left intact during surgery and the IOL usually is implanted within it.
When the cataract is removed, your surgeon makes every attempt to maintain the integrity of the lens capsule, and normally your vision after cataract surgery should be very clear.
However, in about 20 percent of patients, the posterior portion of the capsule becomes hazy some time during cataract surgery recovery or even months later, causing PCO. In some cases, if the condition progresses significantly, your vision may be worse than it was before cataract surgery.
What Happens During the Procedure?
YAG laser capsulotomy involves just a few simple steps:
Usually, the eye is dilated before the procedure, with dilating eye drops.
A laser removes the hazy posterior capsule from your line of sight without making an incision or "touching" the eye.
Many ophthalmologists recommend anti-inflammatory eye drops following the procedure.
A laser capsulotomy is a relatively simple, in-office procedure that takes only a few minutes and is entirely painless. Patients rarely experience discomfort afterward.
Following a YAG laser capsulotomy, you may resume normal activities immediately. Some patients may experience some floaters afterward. These will likely resolve within a few weeks.
Most people can expect their vision to improve within a day. Because the YAG laser removes the central zone of the cloudy posterior capsule behind the intraocular lens, the condition cannot return. So only one laser treatment is required to permanently eliminate vision loss caused by posterior capsule opacification after cataract surgery.
---
Related Pages